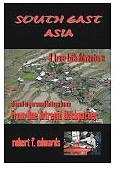 Once again this Canadian writer has left his footprints on the other side of the world, this time in South East Asia.
Join him as he views the Bridge over the River Kwai, a childhood dream fulfilled.
From the hustle-bustle of Hong Kong, the glamour of Singapore, the beauty of Bali, and the varied natural wonders and mystery of the East.
The remarkable rice terraces of the Philippines are a wonder of man's achievements, yet the rich history and architecture of the numerous temples throughout every country visited call for attention.
This book has something for every one who loves the adventure of traveling alone, as this back-packer shares his experiences throughout South East Asia.
South East Asia

The Other Journeys